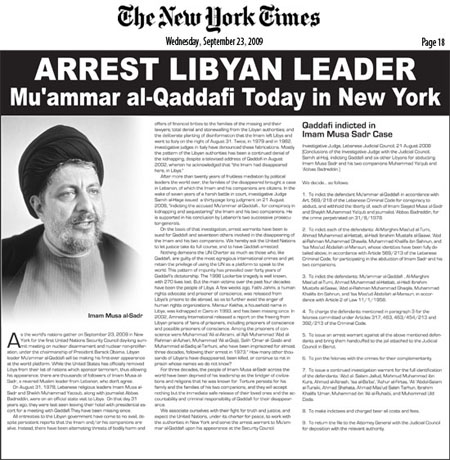 As the world's nations gather on September 23, 2009 in New York for the first United Nations Security Council day-long summit meeting on nuclear disarmament and nuclear non-proliferation, under the chairmanship of President Barack Obama, Libyan leader Mu'ammar al-Qaddafi will be making his first-ever appearance at the world platform. While the United States has officially removed Libya from their list of nations which sponsor terrorism, thus allowing his appearance, there are thousands of followers of Imam Musa al-Sadr, a revered Muslim leader from Lebanon, who don't agree.
On August 31, 1978, Lebanese religious leaders Imam Musa al-Sadr and Sheikh Muhammad Yacoub, along with journalist Abbas Badreddin, were on an official state visit to Libya. On that day 31 years ago, they were last seen leaving their hotel with presidential escort for a meeting with Qaddafi. They have been missing since.
All entreaties to the Libyan government have come to no avail, despite persistent reports that the Imam and/or his companions are alive. Instead, there have been alternating threats of bodily harm and offers of financial bribes to the families of the missing and their lawyers; total denial and stonewalling from the Libyan authorities; and the deliberate planting of disinformation that the Imam left Libya and went to Italy on the night of August 31. Twice, in 1979 and in 1982, investigative judges in Italy have denounced these fabrications. Mostly the pattern of the Libyan authorities has been a continued denial of the kidnapping, despite a televised address of Qaddafi in August 2002, wherein he acknowledged that "the Imam had disappeared here, in Libya."
After more than twenty years of fruitless mediation by political leaders the world over, the families of the disappeared brought a case in Lebanon, of which the Imam and his companions are citizens. In the wake of seven years of a harsh battle in court, investigative Judge Samih al-Hage issued a thirty-page long judgment on 21 August 2008, "indicting the accused Mu'ammar al-Qaddafi... for conspiracy in kidnapping and sequestering" the Imam and his two companions. He is supported in his conclusion by Lebanon's two successive prosecutor-generals.
On the basis of that investigation, arrest warrants have been issued for Qaddafi and seventeen others involved in the disappearing of the Imam and his two companions. We hereby ask the United Nations to let justice take its full course, and to have Qaddafi arrested.
Nothing demeans the UN Charter as much as those who, like Qaddafi, are guilty of the most egregious international crimes and yet retain the privilege of using the UN as a platform to speak to the world. This pattern of impunity has prevailed over forty years of Qaddafi's dictatorship. The 1998 Lockerbie tragedy is well known, with 270 lives lost. But the main victims over the past four decades have been the people of Libya. A few weeks ago, Fathi Jahmi, a human rights advocate and prisoner of conscience, was released from
Libya's prisons to die abroad, so as to further avoid the anger of human rights organizations. Mansur Kekhia, a household name in Libya, was kidnapped in Cairo in 1993, and has been missing since. In 2002, Amnesty International released a report on the freeing from Libyan prisons of 'tens of prisoners, including prisoners of conscience and possible prisoners of conscience.
Among the prisoners of conscience were Muhammad 'Ali al-Akrami, al-'Ajili Muhammad 'Abd al- Rahman al-Azhari, Muhammad 'Ali al-Qajiji, Salih 'Omar al- Qasbi and
Muhammad al-Sadiq al-Tarhuni, who have been imprisoned for almost three decades, following their arrest in 1973." How many other thousands of Libyans have disappeared, been killed, or continue to rot in prison whose names we do not know?
For three decades, the people of Imam Musa al-Sadr across the world have been deprived of his leadership as the bridger of civilizations and religions that he was known for. Torture persists for his family and the families of his two companions, and they will accept nothing but the immediate safe release of their loved ones and the accountability and criminal responsibility of Qaddafi for their disappearance.
We associate ourselves with their fight for truth and justice, and expect the United Nations, under its charter for peace, to work with the authorities in New York and serve the arrest warrant to Mu'ammar al-Qaddafi upon his appearance at the Security Council.
Qaddafi indicted in Imam Musa Sadr Case
Investigative Judge, Lebanese Judicial Council, 21 August 2008 [Conclusions of the Investigative Judge with the Judicial Council, Samih al-Hajj, indicting Qaddafi and six other Libyans for abducting Imam Musa Sadr and his two companions Muhammad Ya'qub and 'Abbas Badreddin.]
We decide... as follows:
1. To indict the defendant Mu'ammar al-Qaddafi in accordance with Art. 569/218 of the Lebanese Criminal Code for conspiracy to abduct, and withhold the liberty of, each of Imam Sayyed Musa al-Sadr and Shaykh Muhammad Ya'qub and journalist 'Abbas Badreddin, for the crime perpetrated on 31/8/1978.
2. To indict each of the defendants: Al-Marghini Mas'ud al-Tumi, Ahmad Muhammad al-Hattab, al-Hadi Ibrahim Mustafa al-Saawi, 'Abd al-Rahman Muhammad Ghawila, Muhammad Khalifa ibn Sahnun, and 'Isa Mas'ud Àbdallah al-Mansuri, whose identities have been fully detailed above, in accordance with Article 569/213 of the Lebanese Criminal Code, for participating in the abduction of Imam Sadr and his two companions.
3. To indict the defendants: Mu'ammar al-Qaddafi , Al-Marghini Mas'ud al-Tumi, Ahmad Muhammad al-Hattab, al-Hadi Ibrahim Mustafa al-Saawi, 'Abd al-Rahman Muhammad Ghaqila, Muhammad Khalifa ibn Sahnun, and 'Isa Mas'ud Àbdallah al-Mansuri, in accordance with Article 2 of Law 11/1/1958.
4. To charge the defendants mentioned in paragraph 3 for the felonies committed under Articles 317, 463, 463/454/213 and 392/213 of the Criminal Code.
5. To issue an arrest warrant against all the above mentioned defendants and bring them handcuffed to the jail attached to the Judicial Council in Beirut.
6. To join the felonies with the crimes for their complementarity.
7. To issue a continued investigation warrant for the full identification of the defendants: 'Abd al- Salam Jallud, Mahmud Muhammad ibn Kura, Ahmad al-Atrash, 'Isa al-Ba'ba', 'Ashur al-Firtas, 'Ali 'Abdal-Salam al-Turaiki, Ahmad Shehata, Ahmad Mas'ud Saleh Tarhun, Ibrahim Khalifa 'Umar, Muhammad ibn 'Ali al-Ruhaibi, and Muhammad Uld Dada.
8. To make indictees and charged bear all costs and fees.
9. To return the file to the Attorney General with the Judicial Council for deposition with the relevant authority.
source